"As the Clerk of a smallish Parish, managing a new playground project in excess of £70000.00 was daunting. Maria was recommended to me by a neighbouring Parish, so I asked her to quote for managing the project. Maria was appointed and we have ended up with a superb playground, delivered on time. The tenders from the play equipment companies were analysed by Maria, even down to play value for each piece of equipment. Maria kept the Parish Council informed at every stage, and dealt with any issues with complete professionalism."
&nbsp
Janet Burnett, Clerk to Sutton Valence Parish Council
&nbsp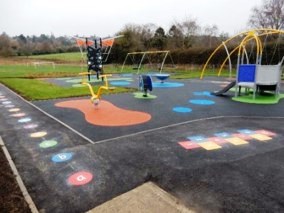 &nbsp&nbsp&nbsp&nbspSutton Valence Project - Completed

"Maria Cook has worked with Loughton Town Council for many years and I have personally worked with her since 2005. Maria's work for the council has ranged from our ongoing annual inspections through to post installation inspections and staff training. Most notably, Maria project managed the refurbishment of our 'flagship' playground at Traps Hill in 2016. This was a large project for us and Maria's role in it from the consultation period through to completion was invaluable. In October 2016 the playground won the Essex Playing Fields Association's Class 7 award for best new project!
In all of the time I have worked with Maria I have never received anything other than excellent service, and I have greatly benefitted from the sound advice from someone who is vastly experienced in their field."
Paul Hoy, Services Manager, Loughton Town Council
"Craigdene's Project management services are very good.  I would highly recommend Craigdene for any playground or play area`s that you need installing/maintaining or checking for Health & Safety requirements. They have been doing all of our play area safety checks for quite a few years now and always deliver the service we want on time and at a very reasonable price."
Paul Barker, Site Manager, Hilden Grange School, Tonbridge, Kent
"Craigdene Limited have provided us with an excellent project management service for our new and refurbished playgrounds and play areas. Maria is a professional, highly competent Project Manager with excellent communication skills. I would thoroughly recommend Craigdene Limited."
Shaun Morris, Head Of Estate Services, Asset Management, Optivo.   
"Maria Cook worked with Speldhurst Parish Council on its playground from inception (10 years ago) and continues to carry out the annual reports. She helped with the design, recommending companies and negotiated the best deals on our behalf. She continues to be our main source of information when we have any issues and we rely on her advice."
Chris May, Clerk, Speldhurst Parish Council
---
Recent New Playground Projects